ZuluTrade is a financial and technology company located in Greece. This brokerage firm was established back by Leon Yohai and Kosta Eleftheriou in 2007 as a social and copy trading platform. As the name suggests, copy trading allows clients to replicate strategies from experienced traders. Apart from the reduction of rough points as it is purely automated, this function was enforced by social trading- a feature that allows clients to review, evaluate, and share trading information.
In 2011, it was acknowledged by The Daily Telegraph as one of the fastest growing start-ups. By 2013, its workforce grew into 120 employees, expanding into Japan the following year after an acquisition made by Market Crew Investment Advisor LTD. Just two years after, it successfully filed its brand as a portfolio management company in the European Union. Apart from these, it has partnered with multiple international financial firms in a bid to maximize its scope. And currently, ZuluTrade stands as one of the prominent market players in the social trading sector of the Foreign Exchange market.

ZuluTrade Account Selection
There are two live accounts offered by Zulutrade, the Classic and the Profit-Sharing accounts. It also offers a Demo account that provides mock trading for those who want to test the platform's full functionality. Discussed below are each account's specifications.
Classic Account- The Classic account was tailor-made for professional traders. Clients may freely switch between manual or automated copy trading. In addition to this, it offers standard and volume-based commissions. As this account was designed mainly for advanced traders, it is suggested that one has to possess adequate knowledge in terms of signal provision.
Profit-Sharing Account-This account's conditions are to facilitate the demands of novice traders. The main function of the Profit-Sharing account is the replication of other winning strategies. To ensure profitability, it compensates traders if a strategy is effective. However, signal providers will then be penalized for every loss. What came to be an interesting thing about this structure is it grants benefits from reduced commissions.
Demo Account- ZuluTrade's Demo account is equipped with mock balance for traders who want to test the waters. Registration for this account is easy as interested parties only need to provide all the necessary information. After successful validation, clients will be able to conduct in-depth analyses and evaluate industry gurus. Just like how the live trading accounts work, it also has a customizable social trading feature.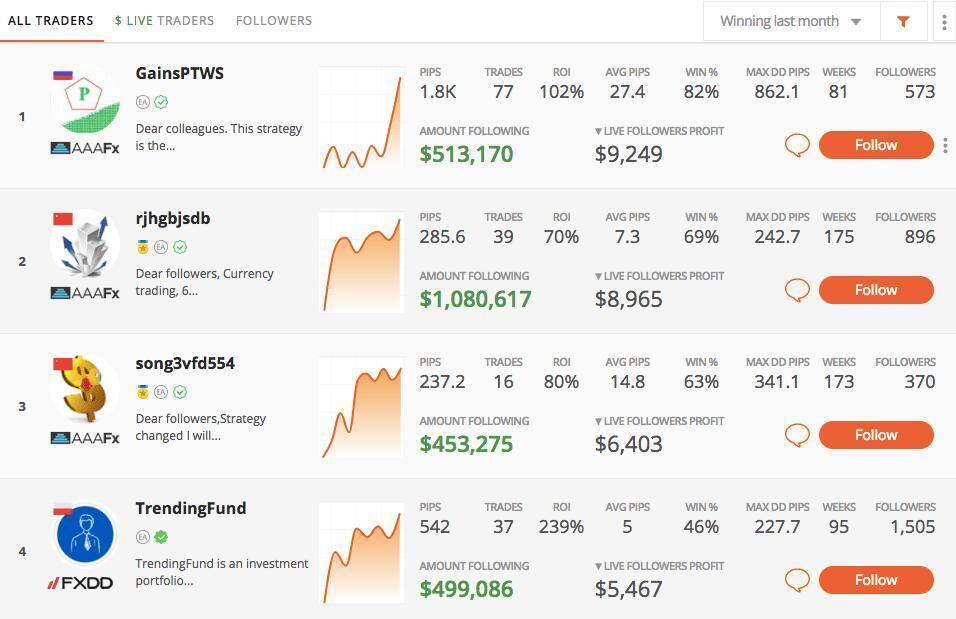 ZuluTrade Features
After a successful registration in any of the aforementioned accounts, clients will be granted premium to multiple social and copy trading features. These are:
Lock Trade- More than the additional layer of protection that this function provides, it also allows users to verify a particular execution even after signals were received. As transactions can be cancelled, losses are reduced and profits are secured.
Automator- As the name suggests, an automator renders notification through email informing clients that an order was automatically placed when important events occur. Its algorithm purely relies on the conditions that clients had set. As this is the case, the system will not process orders that are out of the client's consent.
ZuluGuard- This is used to protect copy traders from erratic trades. Whether trades were accidentally placed or out of poor technical know-how, this function will help as an excellent risk management add-on.
Social Network Features- As mentioned above, the platform solely acts as a social network for traders. As this is heavily prioritized, ZuluTrade offers the most impressive social networking features. It has forum where one can leave feedbacks and comments. It also provides a workspace for those who want to conduct trade, signal, and advice assessments.
Margin Call-o-Meter- This feature gauges to what extent clients' accounts are capable of. It keeps margins in check and whether one's account will get a margin call. More so, it provides a comprehensive calculation of how much capital one is risking. While its effectiveness is proven, this only acts as an indicator and not a money management system.
ZuluScript- Clients may develop trading scripts using this feature. Scripts, usually called expert advisors (EA) by other brokerage firms, are used for the creation of parameters for trading bots. As this completely automates trading, it allows one to place multiple trades far more than the capacity of manual trading.
Conclusion
ZuluTrade's undertaking is inarguably commendable. This claim derived from multiple awards and acknowledgements that it has garnered throughout its years of service. In addition to this, its wide and international reach has solidified its name as a copy and social trading platform. For those investors in search of optimum trading conditions, ZuluTrade tops the list of brokers to consider.