TradeAllCrypto Crypto Broker: Company Background
TradeAllCrypto is one of the leading cryptocurrency brokers in the market, offering modern trading platforms that are designed to cater to the trader's needs. Its innovative services are perfect for investors who require comfortable and profitable trading.
TradeAllCrypto has been part of the cryptocurrency exchange market for more than five years. It caters to 150,000 traders globally, with a vision to expand wider in the future. It has helped thousands of traders make successful trades, which are currently tallied at 170,000,000.
TradeAllCrypto's jurisdiction lies within Saint Vincent and the Grenadines. It was established and currently owned by Market Solutions Ltd. This broker has 5 years of experience trading cryptocurrencies in the European markets. In 2018, it expanded into the Commonwealth of Independent States.
Signing up with TradeAllCrypto has been made easy for all traders. You only need to provide a few information such as name, contact information, country, and to seal the deal, a password. You also have to come up with a security question so in case your account gets compromised, you can easily access it back.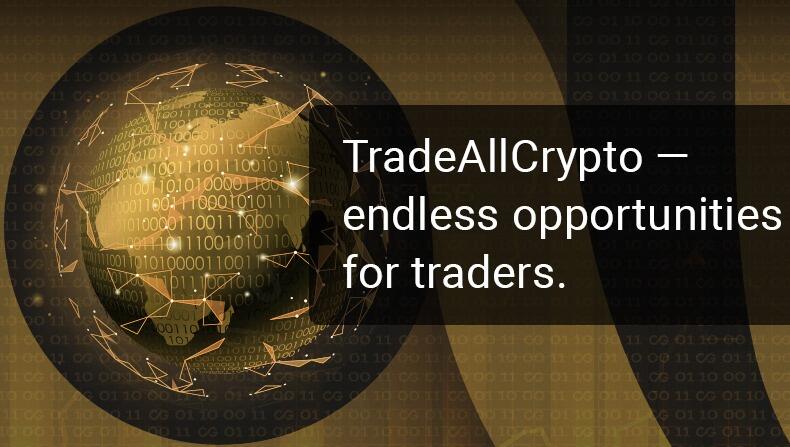 TradeAllCrypto Review: What You Need to Know
TradeAllCrypto's official website offers limited knowledge of the broker's features. Aside from a lengthy list of Terms & Conditions, followed by information about the broker, the only information on the features it offers are the MT4 web terminal and TradeAllCrypto's account types. Nevertheless, this TradeAllCrypto review will dive into the positive features and flaws, as well as advantages and disadvantages of trading with this broker.
MT4 Web Terminal
The MT4 Web Terminal is TradeAllCrypto's most accessible platform. The upside of using MT4 is that it is available in Windows and iOS. This platform is known for its great usability and user-friendly interface. It is so well-used by traders across the world that it has been unofficially hailed as a classic platform in trading. MT4's simple interface expands into hundreds of tools and indicators that are all suited to help the trader be comfortable. It also has automated experts and trading signals.
XCritical Platform
This second platform offers the same level of functionality as MT4, with its intelligent design and detail-oriented interface. This platform is precise in a way that it highlights the most advanced and important features that will be of most help to traders. The client can execute various orders at ease with the help of tools like an economic calendar, take profit and stop loss options, fast execution, and a display of the quotes of all assets.
TradeAllCrypto offers up to five types of accounts as stated on its official website. Below are the specifications and advantages you can avail in each account:
Start Account
The Start Account requires a minimum deposit of $250 and a maximum of $3,000. It offers a welcome bonus of up to 50%, with access to analytical and research materials. It follows the standard processing time for withdrawals and includes an introductory lecture to using the MT4 platform.
Silver Account
The Silver Account requires a deposit of $3,001 to $10,000 with the chance to receive up to 100% welcome bonus. Like the Start Account, it follows standard rules on withdrawals and provides access to all the analytical and educational materials provided by TradeAllCrypto. Traders can also view the platform's introductory lecture. On top of these, each client also has his or her personal financial analyst.
Gold Account
This account has a required deposit range of $10,001 to $50,000. It offers up to 120% welcome bonus and an accelerated processing of withdrawals. Like the two previous accounts, it also provides access to analytical and research materials, an introduction to the platform, and a personal financial expert. The added benefit of the Gold Account is a 30-minute review of his or her trading account by the financial analyst every week.
Platinum Account
This fourth account does not come cheap with a minimum deposit of $50,0001 and a maximum of $100,000. It also has a welcome bonus that can go up to 120%, a personal financial expert, and access to all the research and analytical materials that TradeAllCrypto has in store. Its added benefits are a 2-hour review session of his or her trading account led by a financial expert, a quarterly trading plan laid out, and the opportunity to develop a personal trading strategy.
VIP Account
This account is TradeAllCrypto's most expensive and top tier account, starting with a minimum deposit of $100,001. It offers a 150% welcome bonus and the highest priority in withdrawals. Aside from all the benefits already stated in the previous account types, the VIP account offers unlimited reviews of his or her trading account with the financial analyst and will be immediately available upon the client's request. This account also offers quarterly and annual trading plans, the chance to create a personal trading strategy, and a screen demonstration of real-time trading. It also offers the highest priority of trading online with the help of a financial analyst as well as access to VIP hedging tools.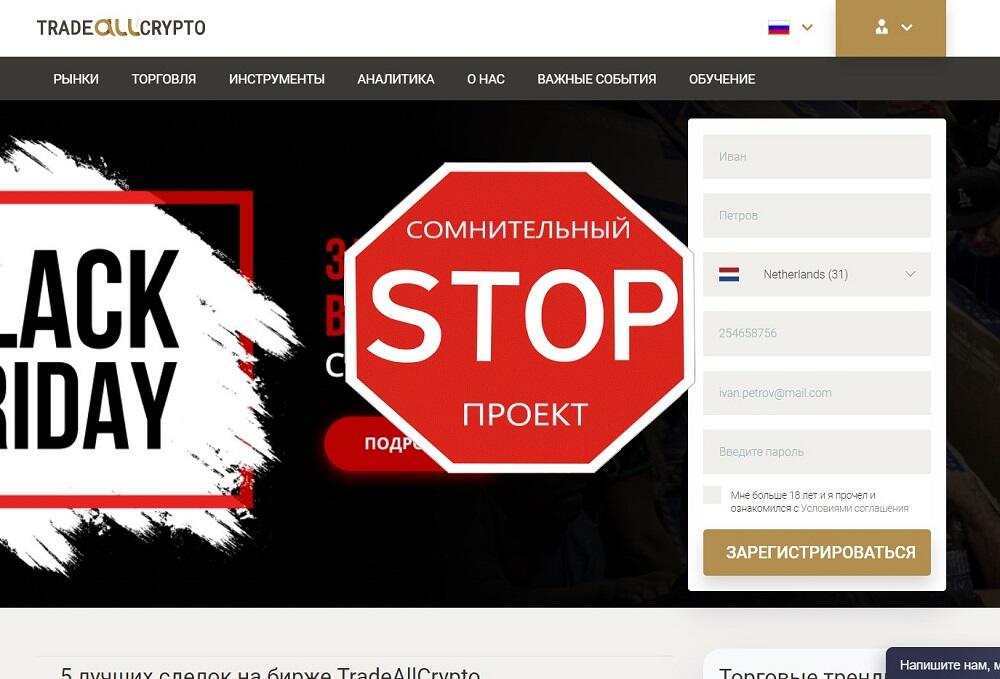 TradeAllCrypto Customer Reviews
There are only a few TradeAllCrypto reviews online. While there are both positive and negative reviews, most of them lean to the negative side. On top of that, TradeAllCrypto customer reviews are ruthless in telling how bad their experience with this broker was. On brokertribunal.com, the reviewer states that TradeAllCrypto is suspected of fraud partly due to the swarm of comments that the broker's customers left on their website. On this website, TradeAllCrypto only garnered a 1 star out of five rating for all 56 reviews done on it.
One former TradeAllCrypto customer, Valentine, said that TradeAllCrypto does not allow clients to withdraw funds and close their accounts. Another former client named Vasiliy detailed how TradeAllCrypto made up excuses to refrain from giving his money back. Other clients had the same opinion of this broker with varying experiences.
There are more former clients of TradeAllCrypto who left negative reviews about this broker. Some of these traders plainly said that TradeAllCrypto scams their clients or that they are fraud. Other reviews end with warnings about trading with this broker, advising other traders not to commit the same mistakes they did.
TradeAllCrypto Fraud Accusations: Is It a Safe Broker?
TradeAllCrypto crypto broker has faced many fraud accusations. To say the least, it does not have a good reputation. From all the reviewer's negative comments about their services and their treatment of their clients, it can be said that TradeAllCrypto is not a safe broker to trade with. It faces too many scamming allegations to ignore or label as the possible result of cutthroat competition. Adding to this conclusion is the fact that TradeAllCrypto has not been transparent whether it operates under the regulation of any authority. On its official website, nothing is indicated about this. To put simply, traders must be cautious when trading with this broker.