TD Ameritrade: An Overview
Organic search for reviews regarding brokerage firm, TD Ameritrade, reveal positive client testimonies and high regard for the firm. Basing one's decision to enlist the brokerage's services off of these reviews may prove not only sound, but altogether wise. As such, this review exists for the sole purpose of looking into the nitty-gritty of all functions and services that TD Ameritrade offers, alongside the few cons that comes when trading with the brokerage.
This review is rendered for a pointed and informed assessment the firm's capabilities, hence effectively (as the review team strongly believes), assisting the readers of this review to make the right decision.
TD Ameritrade only services traders residing in the United States. It is worthy of note that over 12 million traders had already signed up with the brokerage firm and its total customer assets had already reached $1.1 trillion as of the first chapter of 2020.
TD Ameritrade offers a wide variety of trading tools which include investors stocks, ETFs, mutual funds, bonds, options, futures, and Foreign Exchange pairs.
Based in Omaha, Nebraska, the brokerage stands as the only trading entity to offer Retail Forex in the United States. TD Ameritrade also has satellite trading bases in Southlake, Texas, and St, Louis, Missouri. It is publicly-traded and operates a bank.
Legitimacy
While the brokerage already has a number of positive reviews under its belt, the question of legitimacy is still a hanging concern.
TD Ameritrade FX is authorized by 5 tier-1 regulators, namely, the Investment Industry Regulatory Organization of Canada (IIROC), the Securities Futures Commission (SFC), the Monetary Authority of Singapore (MAS), the Financial Conduct Authority (FCA), and the Commodity Futures Trading Commission (CFTC). Not only are these regulators a collective testament to TD Ameritrade's legitimacy, but also a declaration that it scores high with consideration to industry trust and that trading with it is at low-risk.
What TD Ameritrade FX Offers:
TD Ameritrade offers a total of 75 currency pairs.
TD Ameritrade FX offers Options and Futures on pairs, along with the UD Dollar Index and Interest rates. Precious metals, grains, stock indices, energy, soft commodities, and livestock futures contracts are also traded through the firm.
The firm allows for the execution of orders through ME, CBOT, NYMEX, COMEX, ICE US, and CFE.
TD Ameritrade also has provisions for Cryptocurrency trading, specifically for Bitcoin Futures and Greyscale's Bitcoin Investment Trust (Ticker $GBTC). These Cryptocurrency-types are made available in through the firm's ErisX, a derivatives exchange and clearing organization being regulated by the CFTC.
FX, Spot Trading and Social Trading/Copy-Trading are also provided to TD Ameritrade FX's clients.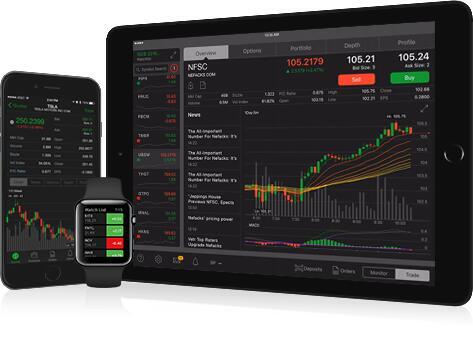 Fee Structures
The Spread data provided by TD Ameritrade FX provides access to the assessment of trading Forex costs. The fee structure followed by the firm is highly-competitive and adheres to industry standards. To further aid the trader, the review team had noted the efficiency of the calculator tool provided by TD Ameritrade FX. Through this, traders are able to estimate the "Cost of Carry" for FX pairs, which is reliant on two things: 1. the direction of the trade and 2. its order size.
GAIN Capital, the legal entity that owns FOREX.com, is TD Ameritrade FX's liquidity provider.
One of the things that really caught the eye of the review team is the absence of a minimum initial deposit when signing up for TD Ameritrade FX. Given the capabilities and the firm's many offers, it is both interesting and exciting to note how it does not require its clients to make an upfront deposit. What this tells us is that TD Ameritrade FX wants all its clients to experience equal opportunities without any money to show for its interest. In addition, active traders and VIPs are privy to a myriad of discounts.
The Exchange Software
Thinkorswim is TD Ameritrade FX's trading platform. While the software is not at all popular in the trading industry, the trading tool is highly-recommended by the reviewing team as it is intuitive with an easy-to-navigate interface.
Thinkorswim compartmentalizes its products into individual tabs. What's noteworthy about this is that the software allows for a more streamlined and highly-effective trading. The Forex Trader module is transparent in that it shows all rates for the 6 primary currencies traded through the firm. The platform does well by keeping all the 75 currency pairs in its module to prep it for customization.
Through the platform, TD Ameritrade FX offers a total of 382 technical indicators, seen as the highest count a firm offers in the trading industry. Once the appropriate conditions are met, an additional 83 indicator-based strategies are added to trigger trading signals.
A total of 58 common candlestick patterns could also be customized through an editor. Like leading platforms, JForex3 and industry-favourite, MetaTrader 4, the platform also has a provision for creating and modifying Technical Indicators.
Education
Just like the aforementioned platforms, Thinkorswim also offers educational tools including live coverage from the CNBC and the brokerage's very own, TD Ameritrade Network TV. TD Ameritrade FX had also partnered with leading news providers Reuters and Morningstar in bringing the latest economic data and events.
Another interesting feature present in the platform is FRED Data. This is considered a plus for TD Ameritrade FX's clients as it includes historical data on U.S. interest rates and other U.S. economic indicators.
News events can also be filtered through the platform's economic calendar. Through this, clients are prompted for events relevant to a trader's portfolio.
The TD Ameritrade FX Mobile Application
The TD Ameritrade FX application mirrors the entire web platform's research capacity. The calendar, news streaming, and global economic indicator events are included in the app. The review team had noted that the application allows for convenient monitoring of leads and potential investments.
Another standout feature that the application offers is its mobile charting. The technical indicators available through the app amount to 400 that can easily be inserted into the charts. Through this feature, a template could be created simply by adding a study to a chart upon opening of other charts or logging back in.
TD Ameritrade FX's mobile application is available for both Android and iOS.
Trade With TD Ameritrade FX Today!
TD Ameritrade FX's many offerings make it really attractive. The only thing that the review team had found to be limiting is its territorial restriction. There is a chance for the brokerage to further its reach should it defy borders and therefore expand to include more clients from other parts of the world. But of course, this is just a minor concern.
One thing that really stood out when looking at TD Ameritrade FX is its willingness to offer its trading services without a minimum initial deposit. This strongly suggests that the company is not afraid to put a stake on its potential clients.
TD Ameritrade FX is indeed a brokerage worthy of its reputation. So if you are a trader residing in the United States and thinking of expanding your investment portfolio, the firm is definitely worth the shot.