SwissQuote Broker Overview
SwissQuote stands as one of the most popular financial firms that provide Foreign Exchange and Contract for Difference solutions. It is equipped with MT4, MT5, and its own desktop version, providing a wider selection of platform for traders. As this came to be one of the most sought-after brokers, it is only necessary to provide a comprehensive assessment of its overall functionality. This review also intends to help interested parties assess if opening an account with SwissQuote is a sound decision.
SwissQuote Ltd, a London-based brokerage firm established in 1996, offers Forex and CFDs as its flagship services. It is a subsidiary of SwissQuote Bank and its operations are closely monitored by the Financial Conduct Authority (FCA). After years of expansion, it now offers 160 financial instruments to over 360,000 global clients. Its credibility can be gleaned in its tight partnership with different networks and organizations including the Manchester United Football Club.
SwissQuote Group Holding Ltd holds the record as Switzerland's top 1 provider of financial solutions and it has been enlisted on the SIX Swiss Exchange back in 2000. It has wide scope of service, with leg offices located in Asia, Europe, and United Arab Emirates.
SwissQuote's Trading Platform
Advanced Trader- This is SwissQuote's very own proprietary trading platform. This comes favorable for traders in search of a highly customizable interface that enables synthetic CFDs. Its smart technology stands as one of the leading technologies in the market since it automatically identifies chart patterns. More than the help it gives for advanced traders, this also provides intensive guide for those who are still new to technical and fundamental analyses.
With Advanced Trader, clients are provided with 27 indicators, 17 overlays, 8 timeframes, and premium order types such as Order Cancels Other (ODO) and If Done. For those who want to utilize hedging, the feature is available upon request. After a successful registration, clients may start trading in either desktop or web.
MetaTrader 4- SwissQuote offers the popular MetaTrader 4 as an alternative. This award-winning system is wired with various Expert Advisors, allowing clients to follow successful trading strategies. Rough points are reduced as Strategy back-testing is available.
It is popular for a reason, and one of the reasons why it has gained commendations is because of its impressive charting suite. This feature holds over 30 built-in indicators, 24 analytics, nine timeframes, and multiple order types. Installing this system has been proven easy since it is compatible with any operating system.
MetaTrader 5- This is known as the upgraded version of the MT4. As this is the next generation system, it offers upgraded and highly innovative trading features. Flexibility and execution are also enhanced, giving clients higher level of efficacy and larger margin of profitability. However, this platform is designed to facilitate the needs of advanced traders. While this upgraded version houses 80 built-in indicators, 44 analytics, and 21 timeframes, users still prefer the MetaTrader 4 for its usability and ease of use.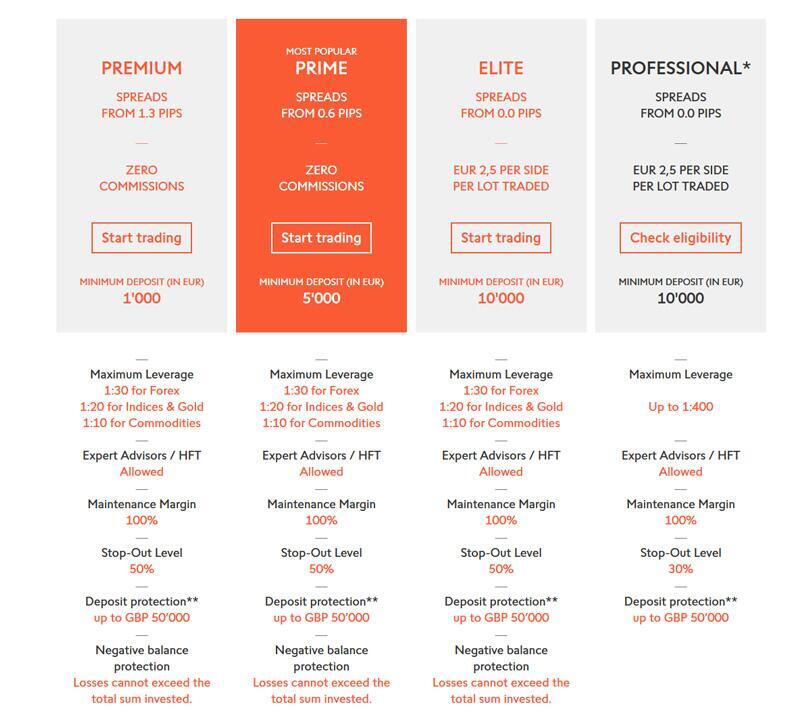 Account Selection
SwissQuote is generous enough to give four account types. The Premium, Prime, Elite, and Professional accounts are all wired with unique trading conditions. For those who take interest in opening a starter account, SwissQuote requires a minimum deposit of 1,000 in any chosen currency. The broker's minimum fee came larger than its competitors, making this a disadvantage on both clients' and SwissQuote's end.
When it comes to the rest of the accounts, the Prime, Elite, and Professional accounts bear the same trading conditions except for minimum deposits and commission percentage. All three accounts offer a minimum transaction size of 0.01. More so, all of them share the same maintenance margin which is at 100% and stop level at 50%.
Additional Features
Research and Education- This broker has an excellent research section. It provides regular streams of financial news, live market analysis, real-time market insights, and financial narratives. More so, a separate section for education may be utilized to understand the fundamentals of trading. It houses different learning materials such as ebooks, webinars, tutorials, and magazines.
Customer Support– SwissQuote offers various methods for support. For clients who have immediate queries, they may reach SwissQuote through email ([email protected]), live-chat, and hotline (+44 20 7186 2600). Customer assistance is available from Monday to Friday between 08:00 and 18:00 in London time.
Conclusion
Having been established in 1996, SwissQuote still upholds its objectives up to date. Almost two decades of service is indicative of the company's undertaking and credibility. More so, this tells us about its strong adhesion after surviving historical financial crises. With its solid reputation attested by its licenses from different regulatory bodies, SwissQuote remains as an ideal option to begin your trading with.