In this Maxitrade review, we will look into every aspect of the broker from its background to its online trading services. Read on in the Maxitrade overview below to find out what the broker has to offer:
Maxitrade Background
When looking into Maxitrade background is a forex and CFD broker with a greater focus on cryptocurrency. Founded by the international holding company Market Solutions Ltd, Maxitrade broker has been emerged into the world of global financial markets for more than 10 years – 5 of those being opened to the cryptocurrency market. With almost well over 150,000 traders and more than 170,000,000 successful trades, the company is still striving to create and offer convenient and advanced services for all customers.
Maxitrade Trading Accounts and Conditions
The available account type offered ranges from Start, Silver, Gold, Platinum, to VIP in ascending order. Each of these accounts offer access to a wide range of services and materials. Different accounts give access to other features with some varying to a certain degree.
Maxitrade Trading platform and software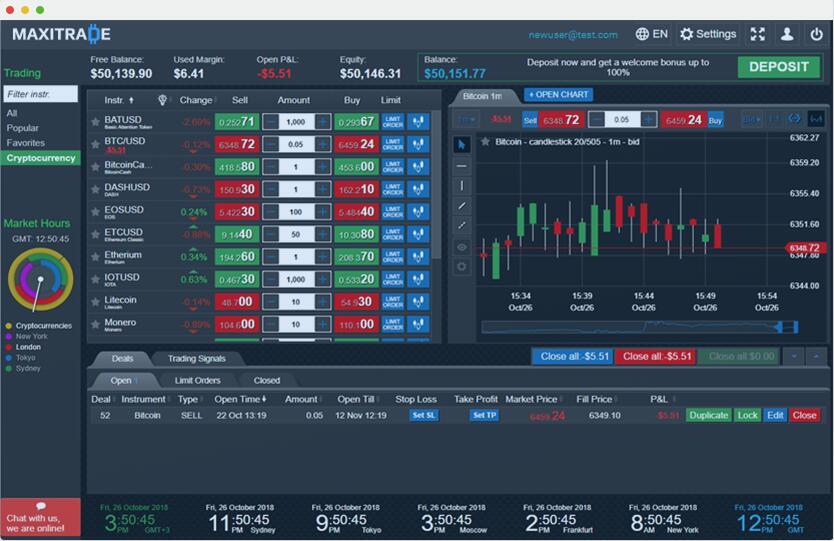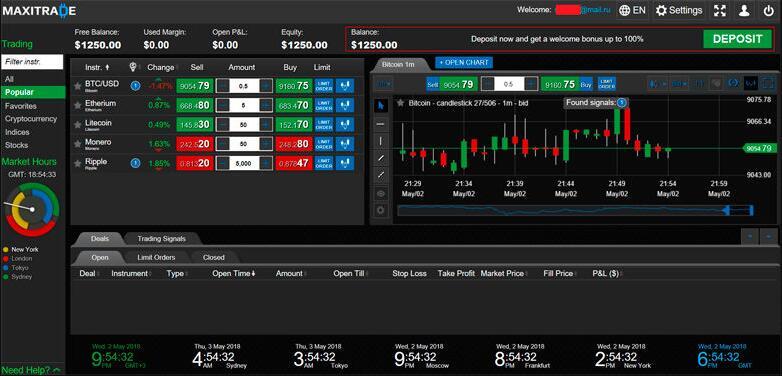 The Maxitrade software incorporates the use of MetaTrader 4 (MT4) platform which is counted on for its cutting-edge technology and is seen as a reliable software; boasting great charting and analysis tools for any trader. MetaTrader also comes with options that can help automate tasks and so traders can focus in the trading aspects. And speaking of automated, Maxitrade trading platform is very well known for its automatic trading bots aptly named Expert Advisors.
Overall, the Maxitrade trading platforms offers a modern and innovative experience for all traders.
Maxitrade Account Types
Maxitrade offers a variety of account types, each with their own benefits for any trader with any budget and experience. Of course, a Maxitrade welcome bonus is offered for first-time accounts which can go up to 150%.
Whether it is for Maxitrade Forex trading or even cryptocurrency trading, the following are the account types offered.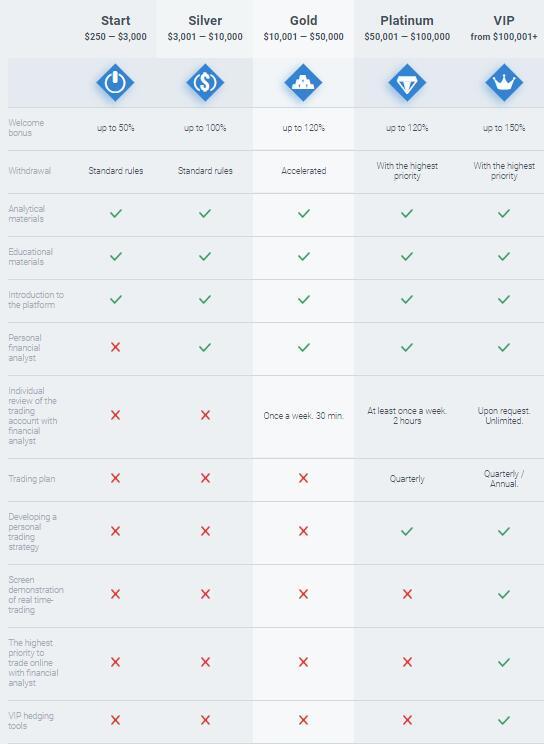 Start:
Just as the name states, the Start account is great for any beginning trader. However, you may not have access to a lot of things that the other account types have. Though even when starting a starting account with Maxitrade welcome bonus is still offered to up to 50% along with all the basic online trading services that traders require.
Silver
Here, the account offers a welcome bonus of up to 100% as well a personal financial analyst that will fully help you in your trading.
Gold
First time traders get a welcome bonus of up to 120% and a much faster withdrawal time. Apart from having access to a personal financial analyst, you will also have an individual review of your trading account with the financial analyst every week.
Platinum
One of the higher tiers of the account types, you will have access to all the features and options mentioned before but with more. Not only will you get a welcome bonus, high-priority based withdrawals but a quarterly trading plan will be provided as well.
VIP
The highest tier with the highest advantages to your trading. The VIP trading account offers everything an experienced trader with every tool and feature prioritized for the trader.
If you would like to know more details about the account types offered, we do recommend visiting their website.
Maxitrade Deposit Options
When making a Maxitrade deposit, the minimum you can opt for is $250 which is for the Start account type.
As we mentioned earlier, this account covers all the basic ground for any trader who wants to invest in Maxitrade forex and will have access to trade with any currency pairs of their choosing. This is optimal for anyone new to trading and/or wants to give Maxitrade a try.
You can opt for the Silver and Gold account types for a deposit above $3,000 and $10,000 respectively. These accounts give the trader much more options and features that can help lighten the load of trading as well as gain additional benefits.
The Platinum and VIP account types are viable for a deposit above $50,000 and $100,000 respectively. These are the most beneficial for experienced traders who know their way in and out the market.
Keep in mind that trading with Maxitrade brokers, there are no extra fees and all account types offer commission-free trading experience.
Maxitrade Methods of payment
Maxitrade methods of payment are listed on their website which can be done through Bitcoin, Credit Cards, WebMoney, and QIWI. This is with a minimum withdrawal of just $50.

Maxitrade Safety
When trading with Maxitrade security of funds is its maximum priority. The Maxitrade broker is regulated by the IFMRRC whose website has been identified with an SSL certificate meaning they are relatively trust worthy. Overall, these are enough to make Maxitrade safe to trade.
Conclusion
In conclusion, like all markets, risk is always involved and in the financial world, every broker has their own conditions. It is up to the discretion of the trader to participate in them or not. Many may point at it claiming it as a Maxitrade scam, however, the broker is a legitimate business with proper regulations and conditions. Some may agree and some may not. But in the end, appropriate risk management and analysis can make a difference no matter what broker the trader uses.