Make the Deal: Negotiating Mergers and Acquisitions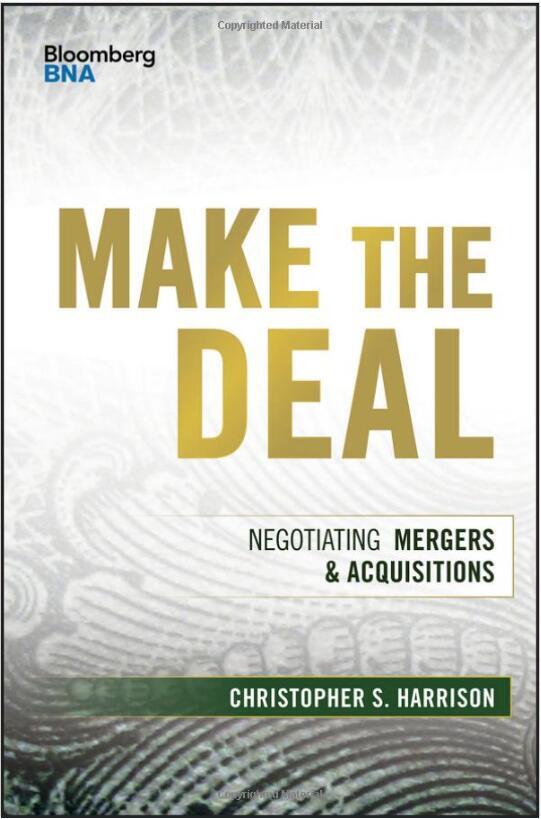 DESCRIPTION
Make the Deal is a comprehensive guide complete with insights on how to land a strong mergers and acquisition deal. It intelligently discusses the importance of business, finance, and law and how these things are crucial in M&A negotiations. The book is commendably intricate and specific that it provides an overview of the acquisition agreement structure while tapping on various deal frameworks involving stock sales, asset sales, mergers, and other complicated structures. This kind of discussion supplies adequate knowledge that one needs for best practice applications. More so, it introduces insights about M&A and how both sides weigh options and decisions crucial to increase value, reduce risk, and determine the possible dangers. Negotiation figures and authentic contracts are presented to indicate that a solution is indefinite.
M&A is a dynamic practice, and knowing how the market move is one trait that one needs to develop. Mastery of such will secure the best Deal. However, what's applicable for one may not work to another. This prioritizes and in-depth discussion of methods instead of just providing lists of viable practices. It has a strong focus on why it is ideal for traders to personalize strategies.
Learn the impact of M&A contract terms on economic outcomes
Analyze strategies and methods of acquisition deals
Design a competent framework that enforces the preferred strategy
Track and analyze success and setbacks that happen in real-world scenarios
In order to succeed in M&A transactions, adequate skills and knowledge are necessary. Make the Deal compiled it all to give readers enough information on how to maneuver and succeed in a highly complex venture.
ABOUT THE AUTHOR
Christopher S. Harrison presently works as the Chief Investment Officer in Falconwood Corporation, a financial firm, and research institution that endeavors on the management of alternative assets. Harrison has a long, illustrious history of successful financial transactions and M&A negotiations, establishing his reputation as a first-rate negotiator and business strategist. Besides, he has records of landing a deal in some of the most sophisticated financial deals.