GCI Broker- A Complete Exchange Brokerage Firm Review
GCI Financial Ltd, a financial solutions firm, was introduced in the market in 2002. Its main headquarter is located in Anguilla, British West Indies, and it has been consistent in bagging industry-related awards ever since its inception. Its award-winning services include access to a wide selection of financial markets such as indices, shares, commodity CFDs and options. With its solid years of experience, it was hailed as the Best Forex Broker in Europe back in 2014.
Currently, the broker provides services for international clients through a selection of third party platforms. The popular MetaTrader 4 guarantees optimum trading experience as it is equipped with more than 30 technical indicators, Expert Advisors, NDD &ECN orders, rapid execution, and multiple timeframes. In addition to this, the broker also outsources the service of ActTrader, an impressive platform that grants access to premium features including back-testing, account statements, highly-customizable interface, price alerts, and instant fills. These two platforms support a wide range of operating systems and may be downloaded from GCI's official website.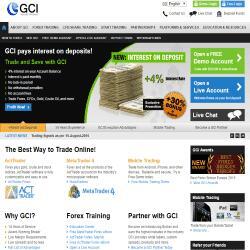 GCI Account Selection
GCI offers two account types in its selection. These two are heavily patterned from the broker's platform choices, and thus called the MetaTrader and the ActTrader accounts. To open any of the mentioned accounts, clients are required to have minimum funding worth $500.
While there has been a similarity in terms of deposit amount, each account is equipped with different trading conditions. As for the MetaTrader, its trade size is quoted 100,000 currency units per lot. The ActTrader, on the other hand, has 10,000 currency units per lot. The former also comes more flexible as it allows clients to convert the account into ECN with no requotations, no delays, and a straight-through-processing type of execution in major currencies.
Subscription to any of these two accounts guarantees access to a diversified selection of asset classes. Traders will be provided with the following:
Foreign Exchange– 40 major, minor, and exotic currency pairs
Indices– 17 World stocks listed under the FTSE 100, Dow Jones Industrial, and S&P 500
Highly-Valued Metals- Gold, Silver, Platinum, Palladium, and Copper
Commodities- Oil, Natural Gas, Commodity-backed bonds
Shares- Facebook, Deutsche Bank, and Sony
For those who are hesitant in opening a live account, they may opt in using the Demo account first. This account can be used for mock trading and is pre-loaded with $50,000. This comes beneficial for traders as it gives a comprehensive overview of the platform without financial risks.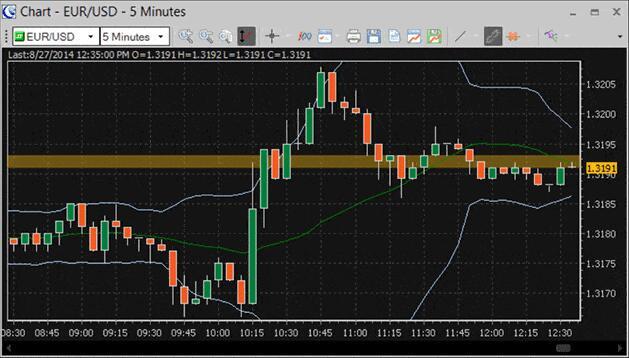 GCI Education and Research
Another interesting feature that GCI takes pride in is its authoritative educational and research materials. It integrates video tutorials, webinars, demos, and articles to its selection, providing an encompassing and holistic learning about the fundamentals of trading. More so, it is engineered to provide a regular stream of trading signals, and live quotation. Serving as reinforcements, it has an economic news and calendar for additional insights.
It has a separate section dedicated for market research. With this, clients may acquire substantial insights regarding the persistent market condition, resistance and support, and quality commentaries about major currencies. Lastly, it houses a financial glossary, which may be consulted for technical and financial trading terminologies.
Customer Support
Another excellent aspect about this broker is its variety of means where queries may be placed through. Its highly-responsive customer support attends to clients through email, telephone, and live chat. It is also user-oriented as it provides a multi-lingual options for non-english speaking users. Below are CGI's contacts:
Email – [email protected]
Telephone number – +1 800 604 2457 (24/5 GMT)
Live chat – located at the bottom right corner of the website
Conclusion
While GCI's services appeal to a wide range of clients, surprisingly, it is not well-regulated. Since it is located in a jurisdiction with weak financial policies, it does not possess the same level of security that licensed brokers have. As this is a point for concern, clients need to fully assess the brokerage firm. For those who still want to subscribe to GCI, conduct a thorough assessment before registration.
Looking past this issue, GCI is still a decent broker for various reasons. Its authoritative learning materials, excellent selection of asset classes, and optimum platforms all work together to carry out a holistic trading experience for both novice and advanced traders.