ExpertOption Forex Broker Overview
ExpertOption is an online trading platform that covers wide selection of assets including contract for difference, foreign exchange, cryptocurrencies, shares, commodities, and indices. The platform was introduced to the public in 2014 with its head office located in Port Vila, Vanuatu. Clients are ensured that it operates under legal standards since its name is filed under the Financial Services Authority of St. Vincent and the Grenadines. Ever since its debut, its total number of clients is at 37 million and recent reports showed that it executes 30 million orders per month.
This trading platform has a trader-centered approach, making its clients the number one priority. This is evident since ExpertOption provides a total of 100 account managers enough to provide solutions and attend to their clients' needs. Another interesting thing about this is its convenient method of registration, allowing anyone to easily start trading through innovative technologies and optimum system.
Read on as we take a closer look at ExpertOption, its services, and its overall functionality.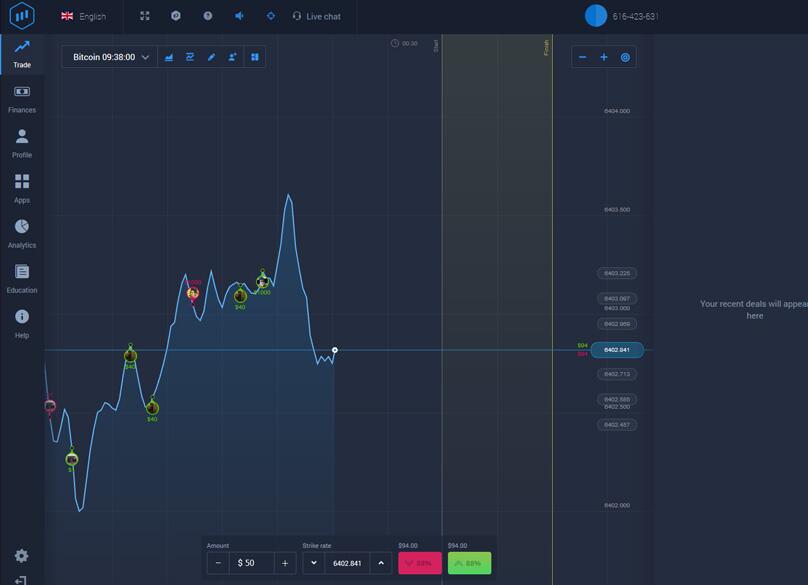 ExpertOption Account Types
Majority of brokers in the financial industry offer only one to three accounts. In ExpertOption's case, it expands its selection up to five. This enables clients to personally pick the best conditions suitable for their trading structure. In addition to this, it has a demo account that allow clients to test the waters before officially opening a live account. Below are the account types that it offers:
Basic Account – For a minimum deposit of $50, clients can subscribe to the platform's entry-level account. Another feature that this offers is access to all educational materials. This also allows users to place 10 deals at once with a maximum deal of $25.
Silver Account – This type of account is the most common starting point for traders who want to invest in ExpertOption. For a minimum deposit of $500, clients may expand their profitability through the help of educational materials, personal managers, market news and analytics, and financial research. It has a maximum order of 15 and the maximum deal amounts to $250.
Gold Account – To open a Gold account, a minimum deposit of $2,500 is required. This enables clients to place 30 orders all at once and each should not exceed $1000. It also offers the same features that the silver account has, only that it has faster withdrawal speed and higher profitability of up to 2%.
Platinum Account – The Platinum account requires a minimum deposit of $5,000. For such amount, clients may already enjoy a limitless number of orders with a maximum deal of $2,000. It has the same features that gold account offers but it has relatively higher profitability, increasing the return of investment by 4%.
Exclusive Account – Not everyone can register with this type of account as subscription is only through invitation. This offers premium access to a senior account manager, profitability of up to 6%, limitless number of orders, a maximum deal of $5,000, and access to trading strategies and indicators.
To note, regardless of which account you open, the minimum investment amount for a particular trade is always $1. Also, some of the features need activation. This will require clients to manually activate a specific feature through email.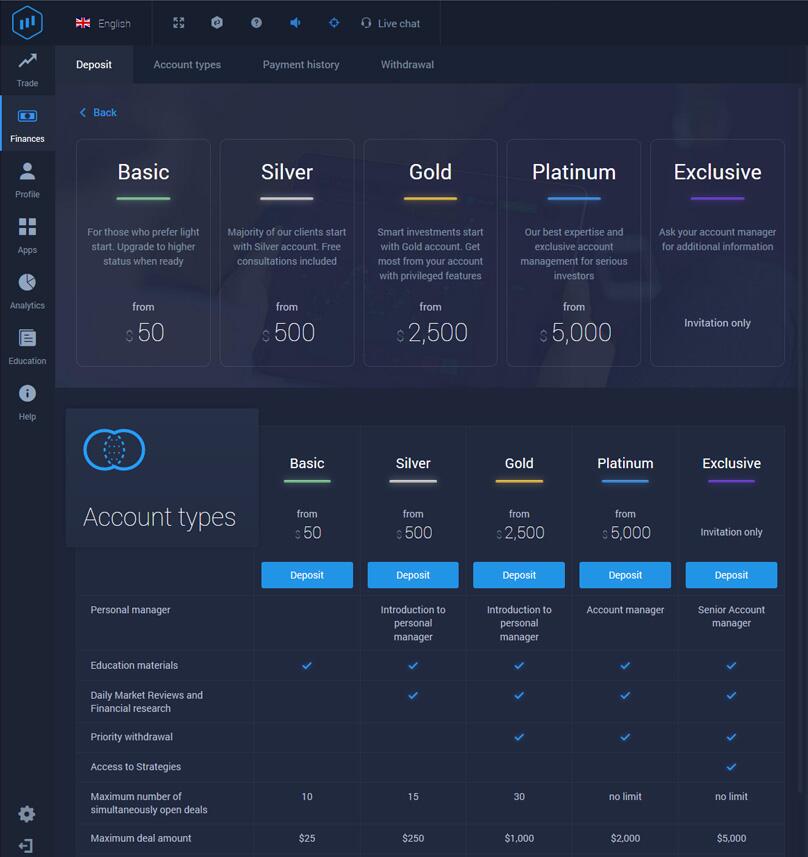 ExpertOption Trading Platform
ExpertOption developed its own system far from the general practice of using MetaTrader and WebTrader. Through their own platform, traders are equipped with the most favorable trading conditions in order to expand profit margin. As it is a platform made by the broker itself, clients are granted with unique features and advantages that other platforms do not offer. More so, its independence does not require any external interference thus outside resources are not necessary to function.
To carry out the company's ambition of creating a more accessible and convenient way of trading, ExpertOption delivers its services through mobile and desktop applications. The mobile version is made available via Apple Store or Google Play. It also has a downloadable version on browser. Moreover, its desktop version can be installed on Windows or MacOS.
Trading With ExpertOption
Aside from the sleek and above-industry features that this brokerage platform offers, subscription with ExpertOption also grants you exciting incentives and bonuses of up to 100%. However, it is important to review these bonuses since it has tight requirements. This also has the potential to restrict funds until the specific turnover is reached.
With its very own platform, strong asset selection, and wide option of account types, it can be concluded that ExpertOption provides more advantages for trading. Its system rooted from ease of use caters to wide strata of traders, whether it is a novice or a professional trader. More so, its assets stand as one of the most diverse within the industry, making ExpertOption as one of the best choices to start your investment with.