If you happen to have searched for a foreign exchange broker that offers electronic and voice access to foreign exchange spots, forwards, and options market, it is very likely that you have already encountered EVFX. It is known to provide an optimum trading solution for all major, minor, and exotic pairings. Together with high-valued metals ready for trading, it is favorable enough as it offers a very unique method of trading known as the Non-Deliverable Forwards (NDFs).
It is true that EVFX sits among other leading foreign exchange platforms. However, online feedbacks are not always positive. A click or two on the internet and results will render bad assessments about EVFX. As this is the case, a thorough review is needed to fully assess the credibility of this broker. This is also being done to evaluate the platform's overall functionality.
To know more about EVFX, continue reading through the whole article.
EVFX Background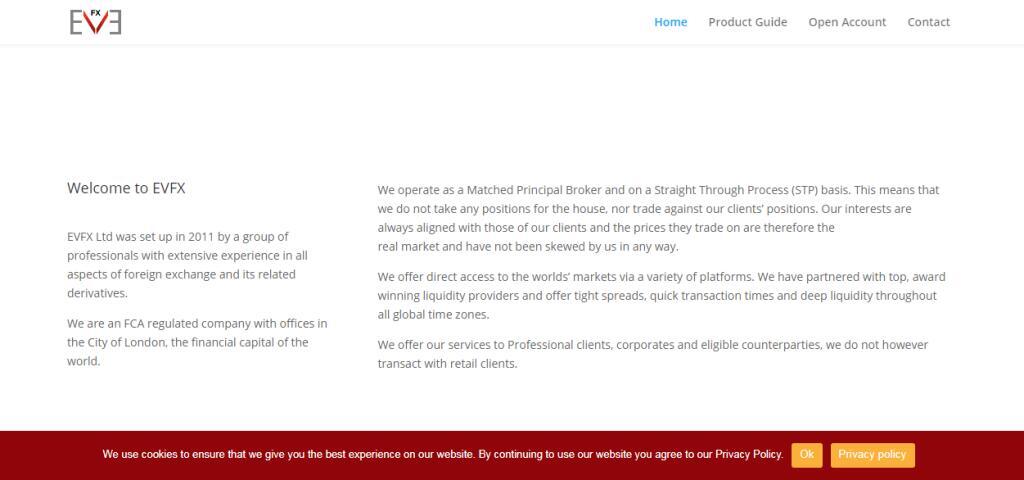 EVFX stands for Electronic and Voice Foreign Exchange. As mentioned above, it offers access to forex spots, exchanges, and other financial markets. It was established back in 2011 with its head office located in London, United Kingdom. It operates under the company called Electronic and Voice Exchange Limited (EVE). In addition to this, it has filed its name under the Financial Conduct Authority (FCA) and European Securities and Markets Authority (ESMA).
Since it is registered under two renowned regulatory bodies, it is safe to say that it is a legitimate broker. Moreover, licenses from both authorities attest that the company had undergone intensive inspections. What makes this a stand out, is its unique platform wired with electronic venues. This means that clients have voice and electronic-based third party attendants that will provide access to the most ideal assets and commodities.
Trading Instruments
EVFX has a wide range of instruments that traders can utilize to maximize their portfolio. It came to be an advantage as traders prefer large settlements of instruments since they are necessary to trading. This brokerage firm provides instruments for:
spot exchanges
high-valued metals
forwards
options
non-deliverable funds
futures
equity exchanges
contract for difference
Aside from the plethora of instruments that traders can enjoy, EVFX is also generous in providing comprehensive and sleek software. Moreover, it is very user-friendly that it comes with a support feature, helping users to resolve issues and concerns for a more optimum trading experience.
EVFX Trading Platforms
EVFX also maximized the selection for its trading platforms. These platforms work through the help of a centralized system. What's interesting about this setup is regardless of which platform you use, all transactions are settled and reflected to the core system, providing clients with efficient one stop shop solutions.
Compared to two to three options provided by other brokerage firms, EVFX provides ten. This is one of the commendable features of the broker as clients are allowed to pick from a wide selection according to their trading preferences. These platforms are:
Currenex
FastMatch
Integral
FXall
DigitalVega
HotspotFX
SolidFX
FXCMPRO
FXONE
API Trading
One does not have to worry about missing some instruments since all are wired with the most advantageous trading tools. In addition to its prime platforms, all transactions are carried out through electronic transaction model. This kind of structure allows any trader, may he or she be a novice or professional, to fully engage in trading as the interface itself, is simple and comprehensive.
Accounts
EVFX's official site does not enumerate the types of accounts they offer. However, other reviews have it that accounts depend solely on the preference and financial capability of traders. One can customize the platform in accordance to their trading portfolio, instruments, and order types. This appears to be a good structure since traders can choose instruments and platforms in a meticulous manner.
On the other hand, for traders who want to have a straightforward and direct trading, this will appear taxing as one will have to pick the instrument one by one instead of opening an account with readily available instruments. But worry not as this company promises more advantage than the slight inconvenience of account personalization.
H2 Withdrawals and Deposits
Clearly, the company maximized all options; all except with withdrawals and deposits. This brokerage company only allows payment through bank wires and debit and credit cards. You also have to note that EVFX sets its minimum deposit at $500 for opening an account. For fund transfers and withdrawals, EVFX is considerate enough not to charge clients with transaction fees.
Conclusion
Clients must not worry about EVFX's credibility as its FCA and ESMA licenses guarantee its credibility. The instruments and platforms are decent enough to carry out a favorable trading condition. Plus, its ready-to-personalize account adds to a unique and convenient trading experience. To conclude, EVFX is capable of expanding traders' portfolio and it is highly recommended that you start trading with EVFX now. If you still have doubts about this broker, assess it more to confirm further.