Beaxy Cryptocurrency Exchange Review
Beaxy Exchange presents itself as a "next-generation digital asset exchange" whose vision is bridging the gaps between the industries of cryptocurrency trading and legacy finance. It is somewhat similar to what Binance offers, along with a powerful trading engine, much more specific order type options, lower fees, and a professional customer support team.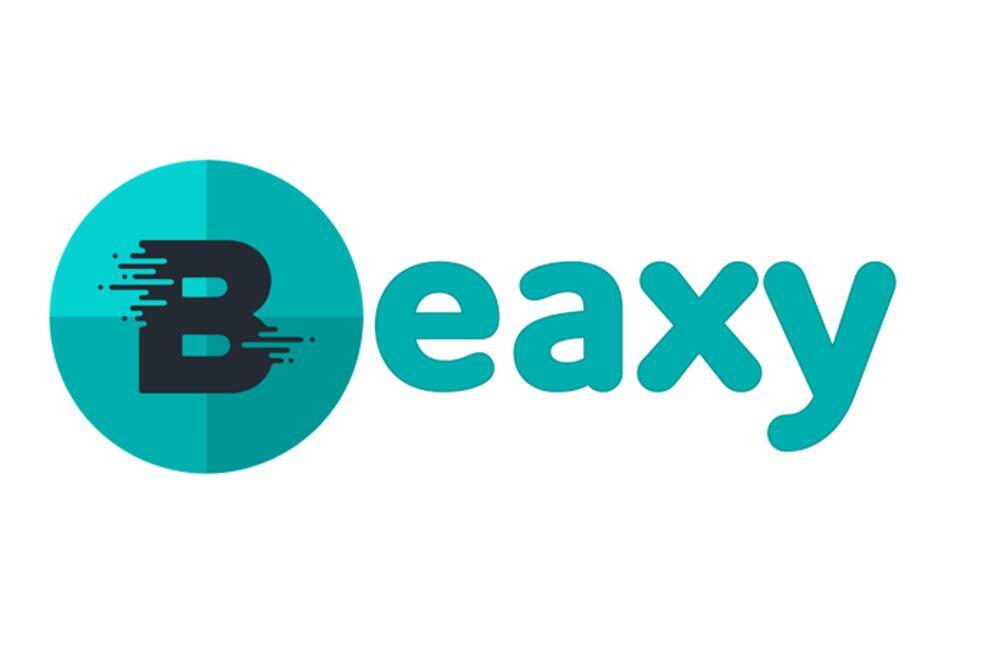 Beaxy Exchange Company Background
When checking Beaxy Exchange's official website https://beaxy.com/, it can be easily noticed that the site lacks information about the company itself. There was nothing provided about the company's background, its founders, or when it was established. The exchange only provided a general overview of the company's vision and reason for its services.
Beaxy Exchange's vision is to help clients achieve financial freedom and build a better financial future. This can be executed through investing in a diverse range of instruments, which Beaxy Exchange provides, along with advanced trading tools and an unstopping support and commitment to the clients' welfare. Beaxy Exchange promises its clients an improvement in their lives through cryptocurrency trading.
This exchange offers three key characteristics: (1) tech and tools, (2) true partnership, and (3) a finance ecosystem. The first one entails the highest grade of cryptocurrency trading technology which leads to fast execution or orders and a maximization of potential profits. The second refers to the support materials provided by Beaxy Exchange, which includes free research and educational resources, rewards, a peer community, and a 24/5 customer support team. The third and final one pertains to the all-around financial support provided by this exchange, which are the choice to put your coins in their custody for added security and offerings of tax reports and trading calculators. It also includes partnership with high-grade banking institutions, which in overall provides an inclusive financial ecosystem.
Beaxy Exchange Key Features
Beaxy has several noteworthy features despite being relatively young in the industry. It is also a good starting point for a cryptocurrency exchange to offer quality and efficiency at the same time.
Public API
Among this list of key features is the Public API Portal, which provides clients comprehensive data to expand the potential of their trading systems. This feature is recommendable for both beginners and experts in algorithmic trading.
Custody
As already mentioned above, Beaxy Exchange gives clients the opportunity to keep their cryptocurrencies secure by offering institutional grade custody via Beaxy's partner, Curv! According to Beaxy, keeping your crypto on the platform keeps it safer, more accessible, and autonomous. Still, an online wallet no matter the level of security an exchange promises is more at risk of being hacked by cyber thieves rather than an offline wallet.
Partnership
Partnership with Beaxy opens you to even more possibilities, including an expansive portfolio of assets that will guarantee big profits. Beaxy Exchange currently partners with Prime Trust, Roundlyx, Deltix, Autonio, Simplex, Cryptohopper, Gunthy, and Holderlab. They have also integrated with Tradingview, Coingecko, Delta, Coinmarketcap, Blockfolio, Hummingbot, and CoinStats.
Hummingbot
Hummingbot focuses on helping clients in algorithmic trading, but with an added feature. With Hummingbot, you can use advanced trading strategies, including setting up automated trading that runs day and night. It works with the use of trading bots to execute trades automatically, which is nothing that a novice trader in algorithmic trading has to learn.
Beaxy Black
This is the VIP program for Beaxy clients and a membership in this entails you to a few special perks. With Beaxy Black, you can increase your rewards in Bitcoin, which can go as high as 30%. This is also applicable in BXY token rewards, which is scaled in volume. This feature also has a separate personal customer support team that will help you with anything in the program.
Beaxy Exchange Platform
The Beaxy Exchange Platform is organized and well-detailed, allowing you to view the real-time price movement of Bitcoin and BXY tokens. Looking at the platform, it has a clear charting for market data next to order types. It is also packed with various indicators and tools that allow you to draw on the chart and determine the trends for the current trade you are looking to execute. You can also view market movements in a minute or hour interval.
The list of indicators shows that there are more than 50 to choose from, which can prove to be convenient in any case. It includes the most-used indicators such as Bollinger Bands, average True Range, MACD, and Moving Average. As of now, Beaxy Exchange supports over Below is a screenshot of Beaxy's platform.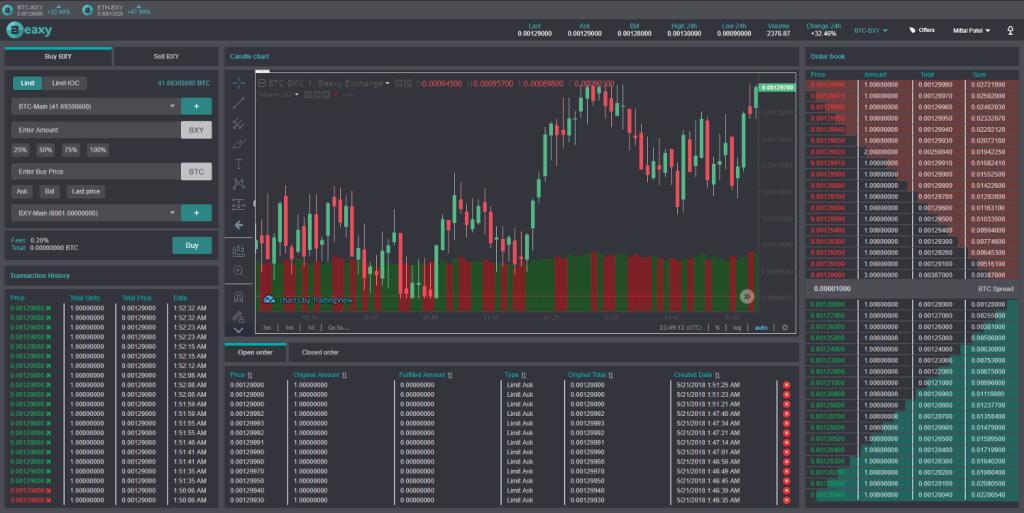 Buy and Sell Cryptocurrencies on Beaxy
Beaxy has a competitive list of digital currencies that it supports. One of its greatest features is that you can buy, sell, or exchange cryptocurrencies like Bitcoin, Ethereum, and Litecoin. To buy and sell bitcoin or other crypto, you must first create an account. Once the verification process is complete, you can use your logins to open your account. This process is completely free and will not entail any payment or fee. If you want to proceed to buying a crypto, you must deposit funds to your account with the fiat currency of your choice. If you want to sell, you can check the list of cryptocurrencies supported by Beaxy Exchange.
In buying a crypto, once you have chosen which digital currency you want to buy, it turns into an order, which is transferred to an order book. The orders are matched by Beaxy Exchange's matching engine to execute the transaction. Once the process is complete, you will receive your crypto. It goes the same way as selling a cryptocurrency. Once the matching engine fixes you up for your order and it pushes through successfully, you will receive the funds on your account.
Beaxy Exchange Review Conclusion
Beaxy Exchange is a young and still-growing cryptocurrency exchange that offers promising benefits. Its features are noteworthy and competitive with other exchanges on the market, regardless of how long these exchanges have been in the industry. While the supported cryptocurrencies of this exchange is limited, Beaxy still has several advantages to offer in trading with it. This includes a powerful platform and key features such as the API Portal and algorithmic trading in Hummingbot. It also has an efficient customer support system that works 24/5. For a young exchange, Beaxy is off to a good starting point.