A click or two on the internet and you will see yourself scanning through a bunch of negative reviews about Close Option brokerage firm. The most common issue is how its features and systems bear exact similarities with Pocket Options broker. Due to this concern, people have grown skeptical about the legitimacy of this broker. More so, many have professed that this binary options company is nothing but a scam.
To clarify the allegations, it is only necessary to conduct a thorough review. The purpose of this is to carry out a comprehensive assessment about its overall functionality and features. More so, this review is to evaluate if Close Option is still worthy of traders' investment despite its uncanny similarities with Pocket Options broker.
Background
Close Option was established back in 2016 and has a main office located in Russia. It operates under Organic Tech LCC with leg offices located in Turkey and Georgia. It can be noted that this brokerage firm has a large number of subscribers as according to the company's latest count, it has a total of 329,968 clients. 60,000 of which are diamond members.
It prioritizes binary options as its primary service, providing solutions for currency pairs, cryptocurrencies, bonds, and other assets. What's more interesting is its trader-centered service evident in prime support systems such as personal managers, live chat, email, analytics, and real-time news updates.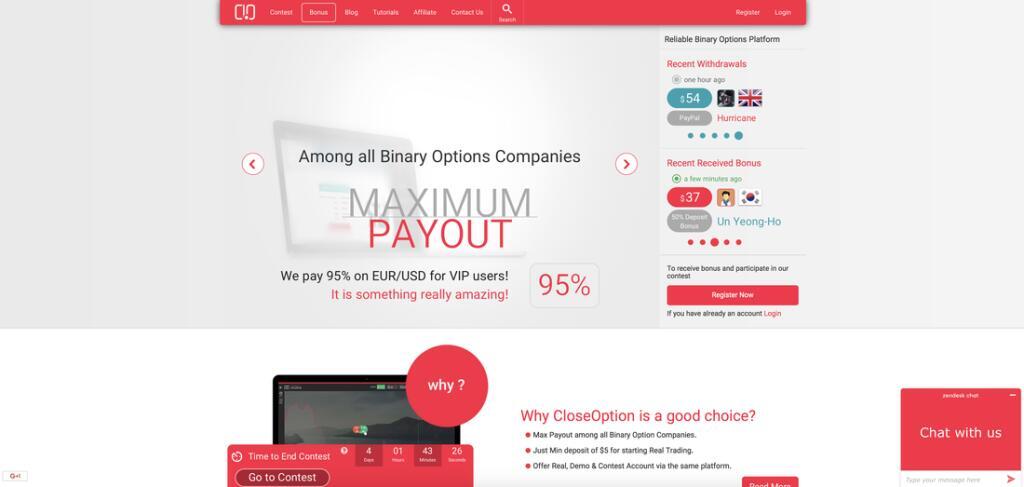 Close Option Features and Services
Upon checking its offered services, what caught our interest are its trader-friendly charges. Charges and fees are significantly inexpensive and the most commendable of all are the $1 charge per trade. These rates stand far cheaper than the generally-practiced rate within the industry.
Another praise-worthy feature about this broker is its MetaTrader 4. As it managed to provide the most popular type of system, traders wouldn't have any trouble using it since the system itself is comprehensive and convenient to use. Traders need not to worry about the complicated binary options illustrations as the integration of MetaTrader 4 made charts easy to analyze.
Other interesting and favorable conditions include:
Maximum trade of $99
Minimum deposit of $5
Maximum of 25 trades
Rapid execution of orders
Bonuses and Incentives
This brokerage firm likes to keep things simple and straightforward when it comes to account selection. Traders are given only one official account. The main account is used for actual trading and is equipped with tradable funds. Though this may appear to be an advantage, clients who prefer a more personalized account will find this as an issue. One type of account means that clients are given standard conditions without getting to select a more compatible trading setup.
Moreover, if clients want to test the waters before officially subscribing, they may open a demo account. This type of account lets clients experience actual trading with mock balances. The purpose of this is to introduce clients to the features and functions of the system. Lastly, there is a contest account for traders who want to engage in trading tournaments.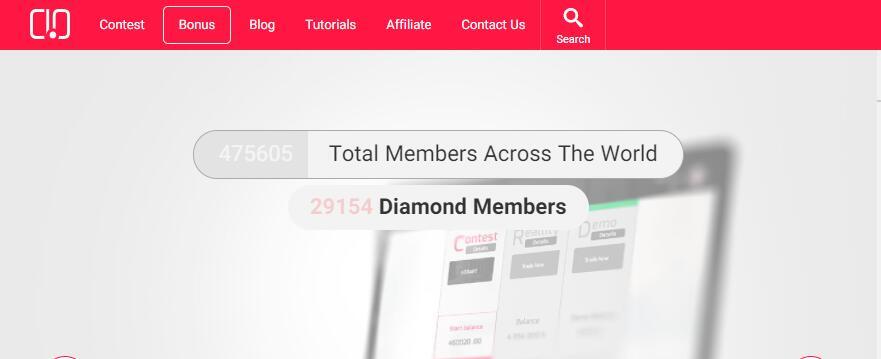 Bonuses
Going to the fun part, Close Option is generous enough to give out exciting bonuses for clients. So far, there are two bonuses that traders can easily get.
PERCENTAGE-BASED BONUS- In order to receive this, clients are required to place specific number of trades and transactions. After meeting the required number, the bonus will then be automatically be reflected in the deposit box. However, this bonus is only granted to anyone who applies for it and recipients are not picked by default.
WELCOME BONUS– As the name suggests, it is given to anyone who signed up for Close Option's services. Traders who opened and had their accounts validated will receive tradable funds.
Withdrawals and Deposits
Traders are given rapid financial turnaround since withdrawals and deposits are executed in a fast-paced manner. Close Option provides a wide selection of payment method such as PayPal, WebMoney, and Perfect Money. These methods suit the needs of fiat-based brokers. As for cryptocurrency-based clients, payment can be executed through Bitcoin, Ethereum, and Monero.
Conclusion
If one is to disregard the issue about similarity, one may conclude that Close Option is a binary options broker of its own. It has its unique features and an even reliable service. Far from how majority of reviews see it, it has decent trading conditions that traders need to give attention to. It also has a strong security, arming clients from financial wipeouts.